Anti-aging Treatment:
Non-Surgical Ways to Take Ten Years Off Your Face
Today's innovative cosmetic surgery treatments can help you stop the clock without going under the knife. Medical spa procedures with laser technology, dermabrasion techniques, and skin tightening treatments can create a dramatic difference within a few weeks.
If you are ready to get rid of fine lines, wrinkles, and sagging skin that are adding years to your appearance but want to do it without evasive surgery, this article is a must-read for you.
Today's innovative cosmetic surgery treatments can help you stop the clock without going under the knife. Medical spa procedures with laser technology, dermabrasion techniques, and skin tightening treatments can create a dramatic difference within a few weeks.
Many non-surgical methods, when they are used regularly, can improve the appearance of the skin. Keep in mind, that no nonsurgical facelift methods will remove wrinkles completely. However, nonsurgical methods are easier and less expensive and do deliver results. Most nonsurgical facelift products and methods will need to be used regularly for there to be a lasting result.
You may find that you need to use a combination of the six keys strategies for facial rejuvenation in order to achieve maximum benefits. The Six Keys include:
1. Exfoliating to remove dead skin and wrinkles
2. Stimulating new collagen to plump wrinkled skin
3. Removing brown spots, and abnormal blood vessels
4. Removing crow's feet, worry lines and frown lines
5. Filling or camouflaging of the deep facial lines
6. Tightening loose skin on the face and neck
All six steps can be achieved without surgery and with minimal or no downtime. There are many minimally-invasive programs that use FDA approved and tested products and treatments that are widely accepted as safe and effective by the medical community.
Are you ready to enjoy the benefits of a facelift without the pain?
Consider these top ten non-surgical facial rejuvenation procedures:
Anti-aging Treatment:
HydraFacial
HydraFacial is the newest breakthrough in aesthetic technology. The HydraFacial takes its name from the root word hydrate: to cause to take up moisture this ability to moisturize the skin separates the Hydrafacial from all other skin resurfacing procedures.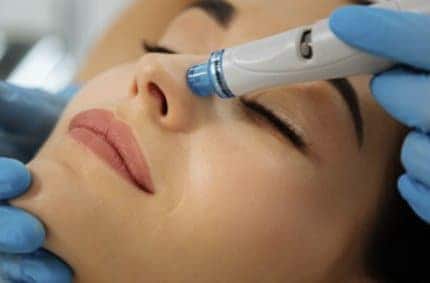 The HydraFacial removes dead skin cells and impurities while simultaneously infusing the new skin with cleansing, hydrating and moisturizing serums. The treatment is soothing, refreshing, non-irritating, and immediately effective. The HydraFacial is the only hydradermabrasion procedure that combines all six keys to more youthful skin.
Breakthrough technology makes HydraFacial™ from Edge Systems unique. In a simultaneous process, dead skin cells are exfoliated and impurities are extracted, using a patented, disposable vacuum-based skin abrasion tip, while the healthy underlying skin is bathed with specifically developed active serums that cleanse deeply, exfoliate thoroughly, hydrate completely and provide residual antioxidant protection.
The multifaceted spiral construction of the HydroPeel™ tips increases the time the serums are in contact with the skin while also providing superior exfoliation due to the multiple planing surfaces. The vacuuming/vortex action swirls away blackheads and impurities while stimulating the blood and lymphatic flow. The result is clearer, more beautiful skin with no discomfort or downtime. The treatment is soothing, moisturizing, non-invasive, and non-irritating.
The HydraFacial treatment improves the appearance of fine lines, wrinkles, congested and enlarged pores, oily or acne-prone skin, hyperpigmentation, and brown spots.
Hydration is the foundation of healthy, radiant skin. Irritation of the skin has been proven to increase the signs of aging. The HydraFacial is a hydrating and non-irritating treatment.
While feedback suggests a noticeable improvement in skin texture after one or two treatments, a series of four to eight treatments are recommended for significant results, said Ross, particularly for people with difficult skin conditions such as hyper-pigmentation disorders and comedonal acne.
The cost varies based on the medical spa and area you live in and the products or serums that are combined with the procedure and the length of the service. The general range is from $85 – $250 per treatment. Service times may vary from 30 – 90 minutes.
Anti-aging Treatment:
Thermage
Thermage is an FDA-approved cosmetic procedure used for skin tightening, wrinkle reduction, and the alleviation of other signs of aging.
This non-exfoliating facial rejuvenation technique is designed to tighten and improve the contours of the face and neck. The treatment uses radiofrequency to tighten the skin on the face as well as other areas on the body such as the "mummy tummy". There really is no appreciable downtime and the results can be quite long-lasting. Controlled radio waves from the device heat the deeper layers of the skin, stimulating new collagen development. The result is tighter and often smoother skin. Unlike laser treatments, Thermage can treat all skin types and requires no downtime.
Skin tightening treatments work by damaging the skin tissue in order to stimulate cell regeneration. Skin tightening treatments use a combination of heat and laser therapy to target damaged skin and encourage healthier cell growth; Thermage is especially effective in stimulating collagen production which helps with the cell regeneration process. A series of skin tightening treatments may be all you need to reduce the appearance of fine lines and wrinkles, and permanently get rid of sagging skin.
Since Thermage is relatively new, many practitioners have limited experience. The lack of experience increases the risk of under and overtreatment, leading to smaller improvements and greater side effects than reported in the clinical studies. If opting for Thermage, look for a practitioner who has been performing it on a daily or at least weekly basis for a minimum of 2 years, and has performed at least several dozen procedures.
Potential problems: Minor superficial burns are an uncommon self-resolving adverse effect. The risks of treatment are low but results, although very good, are slow, taking two to six months.
Thermage costs about $1000 – 1500 for a single treatment and around $2000 – $5000 for a set of two treatments, usually spaced 3 – 6 months apart.
Anti-aging Treatment:
Microdermabrasion
Microdermabrasion is a less-invasive skin surface treatment performed without anesthesia, which results in fresher looking skin with virtually no recovery time. Microdermabrasion may improve signs of aging to the face, neck, and arms in just about one hour.
A series of microdermabrasion treatments can help buff away the top layers of skin and stimulate collagen production. Over time, this means you can effectively get rid of scars, fine lines, and wrinkles, and keep the skin looking fresh and youthful after each treatment. A series of 3 – 6 treatments will help you achieve the most dramatic results, and these can be coupled with other facial treatments such as chemical peels and deep moisturizing masks for additional benefits.
In administering a microdermabrasion treatment, the physician uses a handheld instrument to spray tiny crystals onto the surface of the skin. The crystals gently exfoliate the skin's upper layers, while light suction simultaneously removes the crystals and dead skin cells. As with many other facial rejuvenation methods, more than one microdermabrasion treatment may be necessary for wrinkle removal and to reduce undesired pigmentation.
The most expensive microdermabrasion treatment is performed in medical offices or clinics by specialized dermatologists or surgeons. A single facial microdermabrasion costs between $100 and $300. This does not include the initial consultation which may cost an additional $150.
In a salon or spa, the price of single microdermabrasion varies between $75 and $200. You may get a 5-10% discount if you buy a series of microdermabrasion treatments.
It's important to remember that the cost of professional microdermabrasion is heavily influenced by the cost of the machines used. Some brands are more effective and safer, and that is reflected in the final price. However, some spas and salons use the cheaper microdermabrasion machines but charge you much more than they should.
Many of you may be using a home microdermabrasion system. At-home microdermabrasion systems cost between $15 and $200, depending on kit contents and brand. Kits that include a rotating hand-held device designed to massage the crystal cream into the skin are the most expensive and the most effective.
Anti-aging Treatment:
Juvederm
Juvederm is a popular wrinkle filler that can help plump up the skin and eliminate the appearance of fine lines around the eyes or remove deeper wrinkles around the mouth. A series of Juvederm injections can give your face a more youthful appearance, and can also be
combined with other facial rejuvenation procedures to get the results you want.
Juvéderm injectable gel is a nonsurgical, physician-administered treatment. Juvéderm is eased under the skin using a fine needle to augment or fill, the soft tissue of the dermis-the the dense inner layer of skin beneath the epidermis-to add volume and diminish wrinkles and folds. Juvéderm injectable gel is used most effectively for those wrinkles and folds in the lower third of your face, like your "laugh lines", "smile lines" or "parentheses" (nasolabial folds), or "marionette lines" (oral commissures).
Juvéderm™ is a "next-generation" filler. It is made from hyaluronic acid-a naturally occurring substance in your skin that helps to hydrate and add volume. Hyaluronic acid may diminish with age, contributing to the formation of wrinkles and folds. Juvéderm™ injectable gel works to correct this by restoring hyaluronic acid in your skin, helping to smooth wrinkles and folds.
Prices vary according to the size and number of areas being treated, but Juvederm treatment typically costs $300 or more per injection. Juvederm costs will also vary according to the doctor.
Anti-aging Treatment:
Laser Skin Resurfacing
Laser skin resurfacing is a popular cosmetic procedure that can help rejuvenate the skin and reduce the effects of the sun, aging, and some facial skin disorders. Laser skin resurfacing removes the outer layers of the skin that are damaged or unevenly pigmented. The laser skin
resurfacing procedure stimulates the production of collagen and new skin cells in the underlying layers of the skin.
If you're looking for something a step above microdermabrasion or dermabrasion treatments, laser skin resurfacing may be the best match for you. As with any medical procedure, there are both cosmetic laser skin resurfacing risks and benefits. Some of the risks include infection, permanent changes to skin pigmentation, and laser scarring. Possible benefits to your skin include new collagen production and tighter, smoother skin, as well as a diminished appearance of fine lines and wrinkles, uneven skin coloration, sun damage, scars, and other facial imperfections.
There are a variety of factors that go into determining the exact cost of cosmetic laser skin resurfacing treatment. There is the surgeon's fee, the cost of the facility and anesthesia, and also the expenses incurred from the pre- and post-operative care. Scheduling a complete patient consultation with a laser surgeon or cosmetic dermatologist is the best way to achieve the most accurate cost estimates for your specific procedure. In addition, there are several types of lasers that fit into this category.
Two of the most popular Laser resurfacing equipment:
Fraxel Laser Skin Resurfacing
The Fraxel laser skin resurfacing treatment is distinct from other laser rejuvenation treatments that use either the erbium or the CO2 laser. Because the Fraxel laser procedure is non-invasive, there are few post-treatment side effects. There is virtually no skin tenderness or pain after undergoing treatment and no downtime is required after the procedure. It should be noted, however, that this is not a single session treatment. Improvements to the skin's appearance will appear gradually over the course of weeks or months.
CO2 Lasers
The CO2 laser is the highest intensity laser treatment currently available. After being treated with the CO2 laser, the surface of the skin appears tighter and smoother because the laser uses heat to restrict the collagen bands found in the lower dermis. The CO2 laser can eliminate or diminish the appearance of most wrinkles, scars, warts, and birthmarks. It has even been used to treat skin cancer in its earliest stages.
Anti-aging Treatment:
PhotoFacial
Intense Pulsed Light (IPL) is a facial rejuvenation treatment that can be used to address the effects of sun damage, heredity, and aging on facial skin. Skin imperfections such as wrinkles, uneven pigmentation, freckles, rosacea, facial veins, brown spots, and enlarged pores can be eliminated or greatly improved with IPL Photofacial treatments. There is no "downtime" after the procedure, and you can return immediately to your normal daily activities after your IPL Photofacial treatment.
The laser passes through the skin's top layers to stimulate cell production deep under the skin's surface. A series of Photo Facial treatments can help get rid of scars and age spots, and can also increase the firmness and elasticity of the skin.
While IPL photorejuvenation is generally more costly than procedures like microdermabrasion and chemical peels, it is less expensive than most cosmetic surgery and laser skin treatment. Still, the price for a single Photo Facial/Fotofacial session can be as high as $500 or $600. You will generally need to do a series of at least 3 treatments. The overall cost of photorejuvenation treatment will depend on the severity of the aesthetic issues involved as well as the number of treatments needed to resolve them.
Anti-aging Treatment:
Photodynamic Therapy (PDT)
Recently, photodynamic therapy (PDT) has emerged as an effective treatment to significantly reduce acne lesions on the skin. In the PDT procedure, specific wavelengths of light are used to target and kill the bacteria responsible for acne outbreaks. A typical facial skincare treatment with PDT begins with a light microdermabrasion treatment to remove any dead skin cells. Next, an aminolevulinic acid solution is applied to the skin to enhance the effectiveness of the laser or other light source. Then the targeted skin is exposed to specific wavelengths of light, which penetrate the skin and kill the acne-causing bacteria.
Developed and first used in 1905 for the treatment of skin cancer, photodynamic therapy is now used to treat several common skin conditions. PDT combines a light source – blue light, red light, or intense pulsed light (IPL) – with the use of a topical photosensitizing solution to target specific cells in the body.
Photodynamic therapy is a two-step process involving the application of Levulan Kerastick photosensitizing solution to the treatment area, followed by exposure to a light source, such as the ClearLight system. Levulan is used in photodynamic therapy to make the skin more sensitive to light and is made from aminolevulinic acid, or ALA, a naturally occurring substance in the body. Prior to light exposure, the solution is allowed to penetrate the skin from 15 minutes to 18 hours, depending on the condition being treated.
Typically, the solution is applied during one appointment, and patients return the following day for light therapy. However, Levulan acne treatment is usually done in one appointment in which the solution is left on the skin for 15 to 60 minutes, followed by 8 to 10 minutes of light exposure. Because Levulan makes your skin extremely sensitive to light, it is important to avoid exposure to sunlight and bright indoor lighting while the solution is on your skin and for at least 48 hours after treatment. Sunscreens do not protect the skin from overexposure after treatment with Levulan.
The price of photodynamic therapy depends on many factors, including the type and severity of the condition that is treated, and the area of the country in which the procedure is performed. Comprehensive treatment packages may cost between $2,000 and $3,500 for a series of treatments. Be sure to ask your doctor or technician if check-up appointments and post-therapy care products are included in the treatment price.
Anti-aging Treatment:
Microcurrent Facelift
A microcurrent facelift is a non-surgical, non-invasive cosmetic technique that safely and effectively improves the health and appearance of the skin. A microcurrent facelift is also called a Bio-ultimate facelift. A microcurrent facelift uses technologies developed in the medical and physiotherapy fields to activate the skin's natural chemicals responsible for health and vitality. A microcurrent facelift provides satisfying aesthetic results with less risk of side effects compared to a traditional facelift. The microcurrent facelift procedure is proven safe and effective, delivering results at a fraction of the cost of traditional procedures.
A microcurrent facelift utilizes microcurrent technology which uses gentle electrical stimulation to trigger the body's natural skin enhancement chemicals at a cellular level. Clinical studies have shown that after twenty days of treatment collagen production increases by 14 percent, elastin increases by 48 percent, and blood circulation increases by 38 percent. Scientists have also found that microcurrent facelift treatments trigger the body's production of amino acids and ATP. Both of these accelerate cell repair and promote healthier cell production.
A microcurrent facelift delivers a variety of benefits to patients who wish to attain a healthier and younger-looking appearance. A microcurrent facelift can be performed to achieve the following benefits: improve muscle tone in face and neck, lift jowls and eyebrows, reduce and eliminate fine lines and wrinkles, improve facial circulation, skin exfoliation, lymphatic drainage, sun damage treatment, skin pigment improvement, product penetration, and much more.
Microcurrent facial toning is cumulative, which means that the more treatments you have, the more improvement you will see in your face. The treatments are rather expensive, at an average cost of $110 / treatment. Most people get at least 7 – 12 treatments to get their desired results.
Anti-aging Treatment:
Chemical Peels
A chemical peel uses a chemical solution to improve and smooth the texture of the facial skin by removing its damaged outer layers. It is
helpful for those individuals with facial blemishes, wrinkles, and uneven skin pigmentation. Phenol, trichloroacetic acid (TCA) and alpha hydroxy acids (AHAs) are used for this purpose. The precise formula used may be adjusted to meet each patient's needs.
These types of peels can provide smoother, brighter-looking skin for people who can't spare the time to recover from a phenol or TCA peel. AHA peels may be used to treat fine wrinkling, areas of dryness, uneven pigmentation, and acne. Various concentrations of an AHA may be applied weekly or at longer intervals to obtain the best result.
Peels are not instantaneous results, and there are a healing period and facial peeling and redness for up to two weeks after the procedure. So be prepared and do not schedule this too close to a major life event.
Three Types of Peel Formulas at a Glance
Alpha hydroxy acids (AHAs)
Smooths rough, dry skin
Improves texture of sun-damaged skin
Aids in control of acne
Can be mixed with a bleaching agent to correct pigment problems
Can be used as TCA pre-treatment
Considerations:
A series of peels may be needed
As with most peel treatments, sunblock use is recommended
Trichloroacetic acid (TCA)
Smooths out fine surface wrinkles
Removes superficial blemishes
Corrects pigment problems
Considerations:
Can be used on neck or other body areas
May require pre-treatment with Retin-A or AHA creams
The treatment takes only 10-15 minutes
Preferred for darker-skinned patients
Peel depth can be adjusted
Repeat treatment may be needed to maintain results
Sunblock must be used for several months
Healing is usually quick, much quicker than with a phenol peel
Phenol
Corrects blotches caused by sun exposure, birth-control pills, aging
Smooths out coarse wrinkles
Removes pre-cancerous growths
Considerations:
Used on the face only
Not recommended for dark-skinned individuals
The procedure may pose a risk for patients with heart problems
Full-face treatment may take one hour or more
Recovery may be slow – Complete healing may take several months
May permanently remove facial freckles
Sun protection, including sunblock, must always be used
Results are dramatic and long-lasting
Permanent skin lightening and lines of demarcation may occur
The cost of chemical peels is largely determined by the type of chemical peel that is administered. There are several types of chemical peels that fall into three broad categories based on the depth of the peel. Mild chemical peels, such as alpha-hydroxy acid, and PCA peel formulations provide more superficial treatment of skin imperfections. The cost of chemical peels of this nature average $150 to $300 per treatment. When considering the cost of chemical peels, it is important to keep in mind that achieving optimal results generally requires repeat treatments about every six weeks for light chemical peels.
The cost of chemical peels increases with deeper peel treatments. A full-face medium-depth chemical peel, such as a TCA (trichloroacetic acid) treatment, costs an average of $1,000 to $1,200. Multiple treatment sessions are often required for these moderate peels which should be considered when determining the total cost of chemical peels. As a general rule, moderate chemical peels should be repeated every two to three months to achieve the optimal results.
Deeper peels, such as phenol formulations, are often the most expensive chemical peel options. The cost of chemical peels of this nature runs an average of $2,500 to $6,500 per treatment. Deep peels generally only require one treatment in order to achieve the desired results. These chemical peels can treat coarse facial wrinkles, extensive sun damage, and can even remove pre-cancerous growths on the face.
Anti-aging Treatment:
Makeup Application
The way you are applying your makeup and the choice of products may be aging you. Here are five tips for a younger-looking face.
Avoid sparkling shadows accentuate lines and wrinkles. Use silky, matte shadows blend into your skin and camouflage fine lines. Sweep a light shade of champagne or peach from the lash to brow to brighten the whole eye area. This creates a full, youthful eye. But if puffiness, especially on your lids, is your problem, use a medium shade such as taupe on the entire eyelid to add depth and create a natural-looking crease.
Lips get thinner and drier with age. Dark lip liner and matte lipstick draw attention to the fine lines around your lips. Lipstick usually has longer wear than gloss, but gloss makes lips look fuller. Apply lip color, then topped with gloss for a fresh, youthful shine. If your color strays into lines, use a clear wax lip liner, like DuWop Reverse Lipliner to keep color from traveling.
Colors are necessary, but keep it sheer and strategic. If you go with a translucent punchy red or petal pink on your cheeks and lips, keep your eyes neutral to balance it out. The same rule applies if you want to wear a dramatic eye; keep lips and cheeks neutral. Avoid pale nude tones on your lips because it can make your skin look grayish. Use pink neutrals and berries instead.
It's tempting to spackle coverage on to even skin tone to hide dark circles or problem spots, but cakey makeup can seep into wrinkles and make them look deeper. Too little coverage can make you look tired. So always prep with a moisturizer before applying foundation. The extra bit of moisture helps makeup slide on smoothly and evenly. Ideally, your makeup should allow your natural skin to show through, not blanket it. To get the lightest, most sheer layer of coverage, use a damp sponge or synthetic brush instead of using your fingers. These tools control the product so it's not applied too thick. Then, dot concealer on the spots that need extra coverage: under your eyes, around your nose, and on any pimples. If you have dark circles under your eyes, avoid yellow-based concealer, which makes skin look green and ashy.
Eyeliner is low-maintenance and high impact. The liner makes eyes look full and wide open, de-emphasizing any signs of aging. However, dark black liners and mascara make eyes look hard, so consider switching to a subtle brown or brown-black. Use powder eyeliner instead of liquid. Liquid liner can look too retro. Use an angled brush and work the powder liner into your lash line, getting in between all the lashes. Next, fill in sparse brows to make them more defined — it sets off your eyes. It also creates the illusion of lifting by drawing attention up instead of down. Choose a powder color similar to your brows and apply it with a small angled brush. Don't make them too drawn on, follow their line, focusing on filling in any gaps, not crafting a new look. Finally, never skip curling your lashes. This allows more light to get to your eyes, making them look brighter and less droopy.