Hanalei Day Spa
Are you in search of the ultimate relaxation and rejuvenation experience in Hanalei, HI? Look no further than Hanalei Day Spa. Nestled in the beautiful property of the 5-acre beachfront Hanalei Colony Resort, this boutique spa offers a serene escape where the ocean, heaven, and healing meet. With a team of experienced and skilled therapists, Hanalei Day Spa provides a range of therapeutic massages, pampering spa services, and healing treatments to cater to your individual needs. Let's dive into the world of tranquility and bliss at Hanalei Day Spa.
Hanalei Day Spa
5-7132 Kuhio Hwy, Hanalei, HI 96714
+1-808-826-6621
The Perfect Retreat for Couples
Hanalei Day Spa is a haven for couples seeking a romantic and rejuvenating experience. Whether you're celebrating your honeymoon, anniversary, or simply want to reconnect with your loved one, the couples' services at Hanalei Day Spa will leave you feeling blissfully relaxed and pampered. You can choose from a range of couple's massage options, including the 50-minute in-spa relaxing massage, the 80-minute beach-side deep tissue or Lomi Lomi massage, or the indulgent 110-minute beach-side relaxing massage. The experienced therapists will ensure that you and your partner have a memorable and rejuvenating experience together.
Indulge in Beachside Massages
At Hanalei Day Spa, you have the unique opportunity to enjoy a massage by the sea. The beachside massages offered in the private thatched hale (hut) provide a truly magical experience, where you can relax to the soothing sounds of the waves and feel the gentle ocean breeze on your skin. The beachside massage options include the 50-minute couples beach-side deep tissue or Lomi Lomi massage, the 80-minute couples beach-side deep tissue or Lomi Lomi massage, and the indulgent 110-minute couples beach-side relaxing massage. Immerse yourself in the tranquil beauty of the beach and let the skilled therapists melt away your stress and tension.
A Variety of Spa Services
Hanalei Day Spa offers an extensive menu of spa services to cater to your specific needs and preferences. Whether you're looking for a mom and daughter break, a girlfriends' day out, or simply some "me" time, you'll find a service that suits you. The spa services at Hanalei Day Spa include facials, body treatments, and massages. Choose from options such as the basic/light touch/relaxing massage, deep tissue or Lomi Lomi massage, or the 4-hands massage for a truly indulgent experience. Enhance your massage with accompaniments like aromatherapy, hot stones, or a nourishing mud wrap. The skilled therapists will ensure that you leave feeling rejuvenated and refreshed.
Bridal Spa Services for Your Special Day
If you're getting married in Hanalei, HI, Hanalei Day Spa offers exclusive bridal spa services to pamper you and your wedding party. Whether you want some extra pampering for the bride, groom, or the entire wedding party, the spa can accommodate your needs. You can even inquire about exclusive use of the spa for a truly private and luxurious experience. Let the experienced therapists at Hanalei Day Spa take care of your beauty and relaxation needs on your special day.
The Expertise of Darci Frankel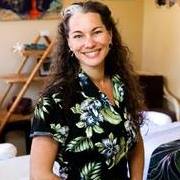 Hanalei Day Spa is led by Darci Frankel, a cleansing and rejuvenation expert with a wealth of knowledge and experience in Ayurvedic medicine. With her expertise, the spa offers Ayurveda's premier cleansing and rejuvenation program, known as Pancha Karma. This program is designed to detoxify and rejuvenate the body, mind, and soul. Guests can choose from 5, 7, or 10-day rejuvenation retreats, during which they can experience the healing benefits of Ayurveda in a serene and nurturing environment. Explore the holistic approach to wellness under the guidance of Darci Frankel and her team at Hanalei Day Spa.
Unwind in the Beautiful Setting
Hanalei Day Spa is located in the picturesque setting of Hanalei Colony Resort, surrounded by the beauty of Haena Beach and the Bali Hai Mountains. The spa facility features private treatment rooms and a beachside hale (hut) where you can enjoy your massage while immersing yourself in the natural beauty of the surroundings. The tranquil ambiance, warm ocean breezes, and the sound of the waves create a serene and peaceful atmosphere, perfect for relaxation and rejuvenation. Let the beauty of Hanalei inspire and soothe your soul as you indulge in the spa services at Hanalei Day Spa.
Couples Connection Practices
At Hanalei Day Spa, the focus is not only on providing exceptional spa services but also on nurturing and strengthening relationships. In a blog post titled "Couples Communication Ritual," the spa shares valuable insights and practices for maintaining healthy and happy relationships. Relationships can face challenges, but with effective communication and connection practices, couples can navigate these challenges and grow stronger together. Hanalei Day Spa encourages couples to prioritize their relationship and offers guidance on nurturing their bond. Explore the blog post for valuable tips and practices to enhance your connection with your loved one.
Schedule Your Blissful Experience
To embark on your blissful journey at Hanalei Day Spa, you can easily schedule your spa experience online. The spa's website provides a convenient "schedule now" button where you can view the available services and check the availability of appointments. Choose the services that resonate with you and book your session to ensure a smooth and relaxing experience at Hanalei Day Spa.
Embrace Tranquility at Hanalei Day Spa
Hanalei Day Spa invites you to embrace tranquility and escape the stresses of everyday life. With a range of spa services, including couples massages, beachside massages, and rejuvenating treatments, the spa offers a sanctuary of relaxation and rejuvenation. Let the skilled therapists guide you through a journey of bliss, as you indulge in the healing powers of massage and experience the serenity of the beautiful surroundings. Whether you're a local or a visitor to Hanalei, HI, Hanalei Day Spa is the perfect destination for a truly revitalizing experience. Schedule your session today and immerse yourself in the peaceful oasis of Hanalei Day Spa.